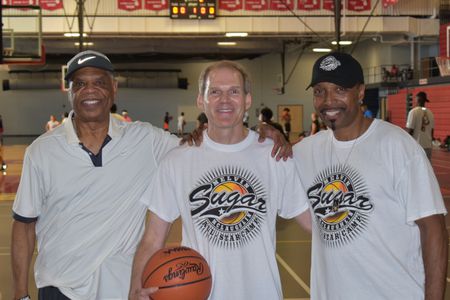 "He's a first-class act. What I've achieved as a basketball player, he's achieved as one of our great ambassadors in the community. And that to me is a lot bigger than basketball."
— Glen Rice, 3-Time NBA All-Star, NCAA and NBA Champion
"All of us who got to watch Sugar will never forget it. He was so gifted as a player, but his personality and smile made everyone life-long fans. I know I am one."
—Tom Crean, Current head coach for the University of Georgia, 2X C-USA Coach of the Year, 2003 Clair Bee Coach of the Year, 2016 Big Ten Coach of the Year.
Available on Amazon and Taking through Venmo: @Vern-Wendt
In Sweet Shot, Dr. Vernon Wendt reveals the secret behind the motivation of one of basketball's greatest long-range shooters of all time. Discover with Sugar a greater purpose for your gifts than personal glory.
Sweet Shot will inspire you to chase after your dreams, re-visit past or discarded dreams, and dream even more dreams --- to dare to be great like Sugar and keep on shooting until you realize the sweet shot of discovering God's purpose for your dreams.
ABOUT THE AUTHOR
Vernon Wendt Jr. grew up in East Grand Rapids, Michigan. He is an ordained pastor in the Lutheran Church Missouri Synod, and a registered Sports Chaplain with CEDE Sports. Vern's so-called basketball career highlight is receiving the 1980 Gus Macker Choo Choo Classic Division IV Most Valuable Player award. For more information see www.TwigAllAmerican.com., vernwendt@aol.com, 616-717-0882